---
Catoosa Clerk Closure
The Catoosa County Clerk's Office will be closed Monday, November 1st, 2016 for a network upgrade. The computers will be down most of the day, and this will expedite the upgrade!  Please plan accordingly. If you show up and the doors are shut and you're caught on video reading a sign saying this exact same thing, then you're not checking the website often enough.
CONGRATULATIONS DON THOMPSON!!!!!
Judge-Select Thompson's swearing in will be Thursday, November 3rd at 1 pm at the Georgia Capital in Atlanta in the East Wing.
NO SECOND WEEK OF DADE CRIMINAL JURY TRIALS!
If You're Interested in Bar Pictures, Click HERE!!!
Attention Attorneys
Several attorneys have inquired as to who can sign an order for Judge Wood, or what must be done in the event Judge Wood had a hearing and the order was not signed.  Please read this case for the answer.
---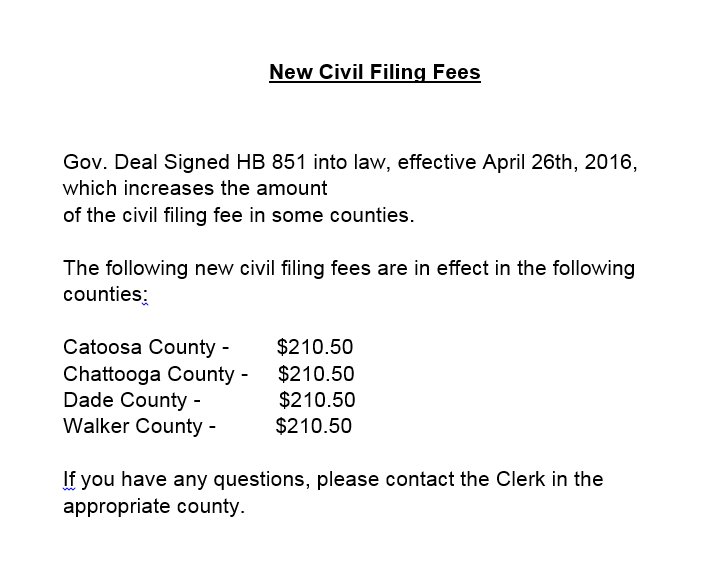 Chattooga Probate Court Preparation of Documents
The Center For Hope reminds all defense attorneys of the opportunities they provide through Pre-Trial Diversion Programs.  Please download and/or read this  important information.
---
We have a new login for Loislaw, which is now called FASTCASE.  Click on the name and it will take you directly to the login page.  But you need to contact Cindy Hall in Judge Van Pelt's office or me (Your Chief Court Administrator) for the Login and Password.  You can also text me for the login information.
If you want to receive the LMJC Calendars,                                                      email me at keithbates@lmjc.net for instructions.
2016 Calendar Revised October 21st

First Offender Sentencing Notice

.